MSCW History and Background
For over 38 years (1980-present):
"Our mission is to increase the enjoyment of owning and operating Mazda vehicles through the sharing of information, knowledge and experience of our associates while hosting numerous local and regional events." - DN
The Mazda Sportscar Club of Washington (MSCW) is an organization of Mazda automobile owners. MSCW sponsors a webpage, an 800+ subscriber list serve, FaceBook page and several hundred associates, numerous social, technical and driver events, with ties to the automotive industry. Specific MSCW activities in the Washington Area include: monthly social meetings, scenic drives, technical seminars, repair/tune-up clinics, car shows, picnics, social events and autocross events.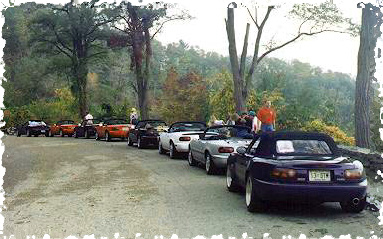 Originally formed in July of 1980 as the "RX-7 Sportscar Club of Metro Washington". By the early 1980's our membership had expanded into the hundreds and we were soon hosting the east coast Rx-7 Club of America driver events. By the mid 80's many of the original owners purchased other Mazda models in addition to their Rx-7s and our events became reflective of all Mazda models. Since 1984 we have been a Mazda marque club with association open to all Mazda vehicle owners. In 1990, we added the Capital Chapter of the Miata Club of America to our designation, later the Miata Owners Club before going away.
MSCW is an independent entity with participants primarily from Virginia, Maryland and the District of Columbia.
Members: Paid Membership phased out in 2016 and we returned to a social club.
Monthly meetings are held on the first Wednesday of every month at restaurants located in Virginia and Maryland. Socializing starts at 7:00 pm, followed by the meeting at 7:30 pm.
Back To Main